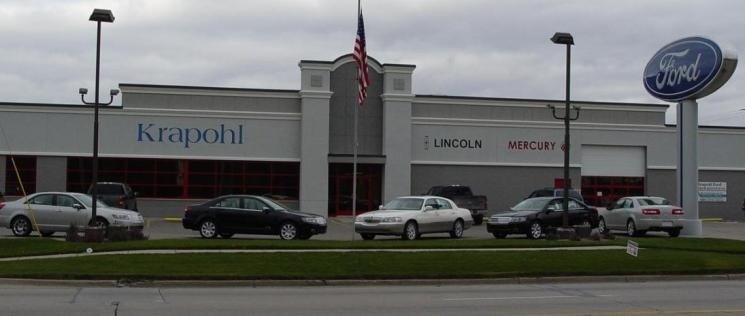 Selling Cars has changed a little since Robert and Harold Krapohl started in 1950
Selling cars and trucks in the 1950s was not necessarily tougher when Robert and Harold Krapohl took over the Ford dealership in Mt. Pleasant, but it certainly was a lot different.
A number of residents in this area can accurately talk about how things have changed over the years. The Krapohl brothers overcame a number of obstacles over the years as they built the dealership up before turning the business over to the next generation in 1975.
In the early days, there were even options on a vehicles heater. You could get the regular heater or an optional deluxe heater. " Most of our customers got the deluxe model." " You could even buy a gas heater and have it installed. That really threw some heat."
As Krapohl Ford-Lincoln approaches its 63rd Anniversary, much of the success can be traced to the hard work and philosophy of treating employees like family.
The Krapohl dealership began in 1950 when Bob left a Ford dealership in Grandville, near Grand Rapids, and Harold left his Firestone Tire Company position in Bay City. They took over a dealership in downtown Mt. Pleasant where Shaboom's Nightclub is currently located on Court Street.
The Krapohls, as well as a lot of people, remember when there was more excitement to shopping for a car or truck. The new models were introduced all at once on the same date and were usually changed considerably from the previous year. Dealers would hold gala events offering coffee, snacks and candy for the kids. They would hide cars and wrap those on the showroom for a spectacular unveiling event. People used to get excited about buying one of the first cars of a particular model.
Bob first became familiar with Mt. Pleasant when he was working for Firestone Tire Company. He was a salesman for the Truck and Tractor Division and traveled much of the state, including Mt. Pleasant.
"Even during the depression, this town always made money for us (Firestone),"he reported. "This was the headquarters for a lot of companies in the oil business and they were keeping busy. Even during World War II, Mt. Pleasant received a lot of the trucks and tires they needed to keep the oil going."
Upon leaving Firestone, Bob worked an agreement with Charles Bateman to work at, and eventually take over the dealership in Grandville. Those plans changed when Bateman tragically drowned while on a fishing trip and the dealership was put up for sale.
Krapohl then looked around at two or three other dealerships and finally settled on the Ford business located in downtown Mt. Pleasant, joining with Harold to take over the operations.
"We went through a lot of hard work and long hours while getting started." Bob remembers. "It was really hot that first summer and we'd work all day and then take some time to sit out in front of the agency to cool off. We worked a lot of nights and Saturdays and Sundays to get the business established."
Cars in the early 1950's went for about $750 to $900 where power steering and air conditioning were not on the options list. By 1968, the average price was about $1,995 and headed up. The original Krapohl Ford business was in two buildings on Court Street, across from The Bennett Hotel where later, a third building was added.
"We were lucky," Bob smiles, "We started off with a bang and had good luck at the business. Car and truck buying was picking up and we made it through that first year or two of tough times."
The Krapohl philosophy of treating everyone like family showed early on. During the first year, there was a Christmas party for all employees and everyone received turkeys as gifts. Through the years, the Christmas parties and gifts have grown larger and larger. Starting with a staff of about 20 employees, it grew to about 30 when Bob retired in 1975 and has since climbed to the current level of more than 70.
The move to the present location came in 1970. There was little in the way of any business on East Pickard and the Krapohl dealership became the first of what some residents refer to as "Auto Dealer Row" with several new and used car businesses.
Bob and Harold set the stage early for how they would treat employees. They retained the employees from the previous dealership and worked to promote their idea that everyone was valuable to the business.
Through the years, Bob and Jeri met and became friends with many while raising a family of three girls. Leaving a nice home in the Grand Rapids area was tough so Bob drove back and forth all summer. When it came time to start school in the Fall, the family finally moved and settled into their new community. Jeri was driving a Plymouth at the time, but it did not take her long to put that on the used car lot and switch to a Ford.
"Mt. Pleasant has been very good to us." Jeri smiles. " Our kids got a great education here and made a lot of nice friends." The family ended up with a graduate from Michigan State University and two graduates from the University of Michigan. A healthy dose of good-natured rivalry has made for some good 'ole family fun. Daughter Kay married Brian Smith and has sense made Mt. Pleasant their home. Barbara (Birchner) is the youngest and now lives in Maryland while Nora (Thuma) resides in Cedar Spring, Illinois near Chicago.
When Bob retired, he turned the business over and did not spend a lot of time supervising. He was finally able to spend more time gardening, doing yard work and frequenting his cottage where he enjoys water skiing and fishing.
Today, he and Jeri live on a beautiful stretch of land overlooking the Chippewa River where the ducks land regularly and the flowers and bushes bloom all summer.
He still bumps into many former customers around Mt. Pleasant who say hello and wish him well.
Even to this day, he keeps up with the automotive business, looking at new models with the perspective of someone who has seen the changes of nearly 63 years in the business.
On behalf of our entire staff, we would like to welcome you and thank you for visiting our website. We offer superior sales and service for every one of our valued customers. We are committed to serving our friends and customers and look forward to hearing from you!